I may earn a little money through the links on this page (at no cost to you), but I only recommend products I love. Promise. Click here for more info.
I'm going to tell you a secret: you will not learn to cook by reading an article about how to learn to cook like a chef.
You will eventually have to go into your kitchen and cook stuff.
But with a little basic cooking know-how and the right resources, I'll have you cooking like a chef at home in no time.
And you will, likely, even have a few laughs along the way. (mostly at your own expense)
Our world has changed recently, forcing most of us to cook at home much more often. (read: 3 times a day, every day)
So what better time to figure out how to learn to cook like a chef?
And, hey, here's the good news: cooking like a chef isn't as difficult as you might think and you can master it without leaving your home!
And for those of us no longer acknowledging outfits that aren't at least partially pajamas, this is critical.
Also, most of the resources in this guide are FREE. You're welcome.
So let's get started. Are you excited? I am.
1. Online Cooking Classes
While culinary school and in-person cooking classes will always be valuable learning tools, there is an easier way. There are a variety of online cooking classes available, but they can get pretty pricey.
But what you may not know is that there are a few fantastic options out there that are either free or very low priced.
Suddenly figuring out how to learn to cook like a chef looks a whole lot easier.
A. Top Chef University
Sharpen your knife knowledge with this quick guide:
My favorite free online cooking school by far is Top Chef University. With TCU On The Go, you get access to 200 FREE video lessons and recipes, totaling over 60 hours of content, right on your iPhone!
Many of the cooking videos, like Pots & Pans 101 and Principles of Grilling, are short and concise making them perfect for a quick how-to on the fly.
These cooking classes are taught by the chefs you know and love from Top Chef and are filled with helpful tips and tricks every home cook and aspiring chef should know.
If you're just starting out and wondering how to learn to cook like a chef at home, start here.
B. Chef Steps
Take your YouTube cooking videos to the chef level:
Chef Steps has a well known YouTube cooking channel that I am a big fan of for beginner cooks. (more on that here)
But for those looking to take their culinary skills to the chef level, Chef Steps offers Studio Pass. For an unbelievably low price of just $7/month or $69/year, you'll get access to exclusive new cooking guides, scientific food insights, and behind-the-scenes videos.
For those with basic cooking skills now contemplating how to learn to cook like a chef, this is an excellent resource.
Cooking techniques and "why's" are explained thoroughly, helping the home cook to learn how to cook without recipes. (hooray!)
Plus, these guys are pretty entertaining; just check out their YouTube channel if you're not convinced.
C. America's Test Kitchen
You should probably season your food. Here's how:
America's Test Kitchen has been teaching us how to cook like a chef for over 20 years. They offer straight-forward, easy to follow instructional cooking videos for cooks ranging from no clue where to start to chef status.
Yes, America's Test Kitchen charges a fee for their video cooking lessons. And no, they aren't the cheapest option out there.
But right now you can snag 2 free weeks of access to over 320 world class cooking classes and recipes.
My recommendation? Start your free trial and devour as many classes as you possibly can during that time.
After that, head over to their YouTube channel for more great content once you've got the basic cooking skills mastered. Now that's cooking like a chef on a budget.
2. Cookbooks
Yes, cookbooks may feel old-school. Because they are.
But every cook, myself included, has a collection of well-loved cookbooks in the kitchen that we refuse to part with. Sentimental reasons? Absolutely.
This is because cookbooks make us feel. They bring back memories of cooking with our moms, or of grandma's best cookie recipe, of a time gone by.
Not to mention having an open cookbook on the counter while preparing a recipe still remains one of the easiest ways to follow along without having to touch your device with sticky fingers.
And these cookbooks are the best for learning to cook like a chef and will never go out of style.
A. Salt, Fat, Acid, Heat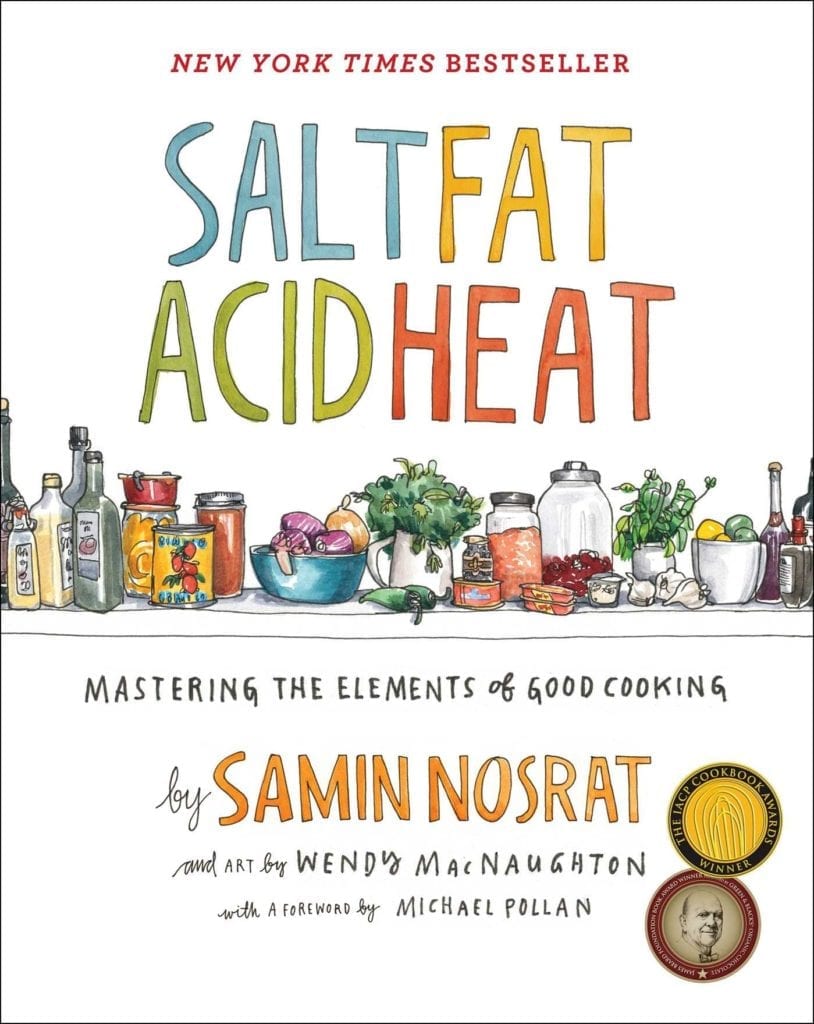 The cookbook behind the acclaimed Netflix series with the same name, this is a must-have for any home cook who wants to learn to cook like a chef.
Bon Appétit said it best, "Just reading Salt, Fat, Acid, Heat will make you a better cook, adept at seasoning, balancing, understanding what it really is you're doing and why… Make room on the bedside table—and the countertop."
This isn't a cookbook. It's a how-to cook… book. Once you master the art of cooking technique and seasoning, recipes become unnecessary.
And if you want more free content, check out Samin on YouTube, where she appears in a variety of informative cooking videos.
B. The Food Lab
If the science-related content in The Food Lab doesn't scare you off, the gargantuan 958-page size of this book just might.
But I urge you to give this cookbook a chance. For those looking to up their cooking game and to truly cook like a chef, this is the book for you.
It will show you, in no uncertain terms, the science behind every cooking technique so that once you understand the why behind cooking, you can easily demonstrate the how.
And while this may be the ideal cookbook for science nerds, it really is for everyone. It is surprisingly very funny and really enjoyable to read.
C. Cook Like A Pro
I love Ina Garten and her cookbooks never disappoint. In Cook Like A Pro, she takes a different approach and provides not only classic, beautiful recipes, but also tips for preparing them like a pro.
This cookbook is designed with the home cook in mind and is great for beginners or intermediate cooks looking for how to learn to cook like a chef. It includes a bit of instruction alongside the recipes, making it easy to follow.
In typical Ina fashion, the recipes herein are casual, homey, and comforting: everything we've come to love about her over the years.
I can't help but hear Ina's voice when I read this cookbook. Is it just me?
3. YouTube Channels
There is a myriad of YouTube cooking channels aimed at making you a better chef. In fact, you can check out my favorite picks for beginner cooks here.
But for those armed with basic cooking skills, and a few essential kitchen utensils, who are searching for how to learn to cook like a chef, the following channels are just the ticket.
With instructional videos covering even the most advanced cooking techniques, and recipes that will wow your family and friends, these cooking channels will have you cooking like a chef in no time.
And you'll be laughing all the way.
A. F&W Cooks by Food & Wine
Haven't tried browning butter yet? These Brown Butter Pancakes seem like a good excuse to give this technique a try:
F&W Cooks by Food & Wine is one of several series on the publication's YouTube channel.
While all of the content on this channel is top-notch, I particularly like F&W Cooks because it features F&W chefs preparing a variety of their delicious recipes in a warm, approachable way.
The recipes range from intermediate to advanced, but are easy to follow and thoroughly explained. You'll learn how to make everything from traditional Czech Kolaches to Pan Roasted Lobster for a crowd.
B. J. Kenji López-Alt
Master the perfect chicken wings at home with these Extra Crispy Baked Wings:
Ok, yes, you're right, J. Kenji López-Alt is the author of The Food Lab cookbook mentioned above. But his YouTube channel is so good it needed its own spot on this list as well.
I'm here to tell you how to learn to cook like a chef, right?
And Kenji will do just that. He is a great teacher both in print and in video formats.
His cooking videos are informative, engaging, and the late-night POV series is pretty funny at times.
With Kenji, you'll learn how to cook several of your favorite restaurant dishes from Paella Valenciana to Sweet & Sour Chicken like a pro chef.
C. Babish Culinary Universe
Ever wondered what the Liz Lemon sandwich would taste like? Here's your chance to make it:
Most of us who make sandwiches with potato chips (guilty) don't start by frying the potatoes and baking the bread.
But watching Andrew Rea do just that is totally soothing (not to mention, hilarious). And 8.2M subscribers agree.
I featured the Babish series "Basics with Babish" in my roundup of the best YouTube videos to learn how to cook because I absolutely love Andrew's approach to teaching basic culinary skills and recipes.
But his series "Binging with Babish" is ridiculous fun, with masterfully recreated recipes from your favorite tv shows and movies.
Expect intermediate-level recipes, techniques, and how-tos with a healthy dose of humor. You'll master everything from Brie & Butter Baguettes from Twin Peaks to Chateaubriand Steak from The Matrix.
And listen closely, Andrew is a big fan of J. Kenji López-Alt and you'll catch several of his genius techniques at work in the Babish kitchen too.
So that's how to learn to cook like a chef, but how long it will take to learn to cook? Get an honest answer here!